SELÇUK AVCI'S COMMENTS ABOUT INTERNATIONAL ARCHITECTURE EXHIBITION IN LA BIENNALE DI VENEZIA HAS BEEN FEATURED IN İSTANBULARTNEWS MAGAZINE…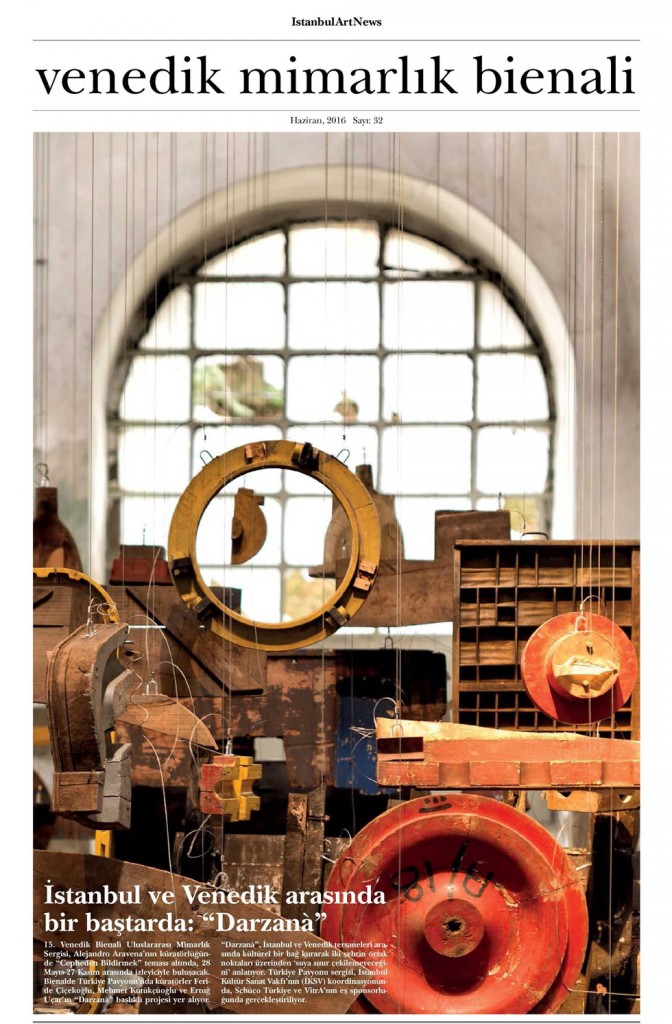 "I first attended the Venice Biennale as a participant during the 6th Architecture Exhibition in 1996 directed by Hans Hollein when my teacher and later partner, Professor Michael Brawne was elected by the British Council to curate the British Pavilion. I was 35 years old. The theme of the biennale 'Sensing the Future – The Architect as Seismograph' prompted the British Council to focus on libraries as places of developing information exchange which were going through a shift in their development as the internet age began to change the way we seek and view information. The main exhibition illustrated four buildings designed as libraries at the end of the 20th century: The British Library, London, by Colin St John Wilson and Partners; The Carré d'Art, Nîmes, France, by Sir Norman Foster and Partners; The Ruskin Library, Lancaster, by MacCormac Jamieson Prichard; and The Eden Project, Cornwall, by Nicholas Grimshaw Partners. The choice of Michael Brawne by the British Council was a natural one, as he was the ultimate expert on the design of libraries, having written the first ever design book on how to design libraries, some 15 years before that.
We were the 'basement boys' exhibiting in the lower ground floor of the British Pavillion, as part of a series of 'up-and-coming' young architects. I put in our design for the Edinburgh University Library Competition, which was then a relatively new approach to design of libraries, recognising the need to accept the internet and digital age as a major factor in the development of this genre, as not only a place to store books, but as hubs of interaction and 24/7 places of study and research. Like the internet it never closed. It was always ON.
What was very nice for me was that while on the upper floor there were the great and the good, Norman Foster and Nicholas Grimshaw, (the architect of the new Istanbul airport), on the level below the up and coming were also given a voice and a chance to show the Biennale what to expect from the future generations. Our design of course was not only new age in its organisational vision, but also the most sustainable solution from an ecological point of view too. It gave us a voice in a context where we could feel proud to be in the basement.
I have been attending the Venice Biennale for many years. I think the first visit was during one of my European "study" trips in the 80's when trying to track down the traces of my favourite architects. Carlo Scarpa is one of those architects whose work is spread across many parts of Venice, and one of these is the gateway to the Biennale from the Viale Trento entrance. Venice for me is a great textbook, even before the Biennale took root in my mind, and made another unmissable event in my calendar.
I go to Venice and the Biennale to recharge my creative batteries. It is something that I need to do every other year, and if I don't do it, I feel as if some thing essential is missing from my life. So my first visit to Venice initially was to open the pages of that textbook and begin the reading; and I am still reading it. It is a book, which opens first at the macro scale, revealing issues of community and urbanity, relationship, and humanity, and civic purpose and democracy at work. Then it moves very quickly to composition, surface and colour, shadow and its relationship to this particular light that you can only experience in Venice. I cannot find words appropriately beautiful enough to describe what I mean by that so I prop myself on renditions of Venice by Claude Monet in San Giorgio Maggiore at Dusk. Every time I experience this light, this rendition of colour between water, and the sky and the things that exist in between, I realise the importance of these things in between: Architecture. Please look at this painting in its original form if you can.
The textbook moves swiftly to detail for me as I walk through the streets, brush past the walls, and surfaces, and realise it is absolutely right that God is in the details, in how things are made and put together with a great love and attention. Which is what brings me to the work of Carlo Scarpa at the Trento gate. Scarpa is everywhere in Venice, (he lived there) but you cannot possibly appreciate his work enough unless you visit the Quarelini Stampalia, a museum that is reached across a bridge designed by Scarpa. Here you experience the idea of close relationship with this macro scale, which comes in to contact with the micro. Scarpa's response to the ebbing flow of the canal waters, which rise and fall due to the tide through out the day, is a poetry written in architecture and bound in the geographic realities of the Po River Valley and Venice. The entry in to the building is negotiated through a classic gondola gate from the canal that celebrates the rise and fall of this water, of indefinable colour, except as Venetian Blue. Inside the building, terraces of stone platform form areas where water can pour in and pour out as you walk across the stepping stones to your gondola.
So when I arrive at the gate at the Giardini entrance, I take time to recount this pilgrimage and touch the columns of Scarpas gateway with a new anticipation of what I am about to find behind the walls and in the gardens of the Giardini at the Biennale.
This year Alejandro Aravena's theme of "Reporting From the Front" promises to be another altering experience. His words:
"Reporting From the Front will be about sharing with a broader audience, the work of people who are scrutinizing the horizon looking for new fields of action, facing issues like segregation, inequalities, peripheries, access to sanitation, natural disasters, housing shortage, migration, informality, crime, traffic, waste, pollution and the participation of communities. And simultaneously it will be about presenting examples where different dimensions are synthesized, integrating the pragmatic with the existential, pertinence and boldness, creativity and common sense. "
Alejandro is an architect of multitudinous dimensions who clearly expects much more from the participating countries. He introduces a challenge to all those who participate to question their normal notions of architecture, to move away from the glorification of the iconic and capitalist driven to a more people orientated, common man's space, that is viscerally real. He proposes on the one hand to go to the edges of the territory to find circumstances that push us to discover dimensions in us that are not normally called upon by our roles as architects. Or at least in the majority of us. There fore the challenge for any national pavilion is going to be to move away not only from icon worship or a showcase of national architectural prowess, but also to make a gesture that is both relevant and immediate to the circumstances of that country and its real people, not the privileged few.
This year as it was last time in 2014, is another year of special anticipation for me, as I will make my way through the Arsenale to the Turkish pavilion. The Arsenale as a space adds an even more global dimension to the exhibition, as the rope factories are lined with national projects, which flow from one to the other. What is very gratifying for Turkey is that it was able to position itself in a more or less separate pavilion, though others share it in different compartments. Nevertheless at last we have a permanent location that we can say is our own. The negative nuances of the debate in our press and in social media about our pavilion and its contents this year, which appears to become more an argument at times, is not going to take away from that pride that I feel when I visit our pavilion. I think in many ways what ever is exhibited this pride will be there, but of course as a Turkish architect, as with others with opinion, I too will have my own thoughts and critiques, but I will refrain from entering the arena of this debate until I actually visit the exhibition.
What ever the debate over the content of the Turkish pavilion, my reading of the Biennale will not be altered. I will spend at least two days during the opening ceremonies, encouraging our home team and supporting them in their efforts, and I have no doubt it will be an impressive show what ever the counter arguments that have developed over the past few months. Given my own weakness for want of perfection, I will be studying our pavilion as with all the others, to see to what degree we have engaged with Alejandro's preposition of "Reporting From The Front". Aravena recognises both in this time period and his output as an architect over the past ten years that globally we are living through some very difficult times. I like his proposition that architecture of sustainability is not achieved through capitulation in front of the current capitalist led socio-economic system of the world, but through questioning and constantly reviewing it in a self-criticism, which is visible and revealing. His project to rebuild Constitucion, a city devastated by an earthquake and tsunami brining in 12m high waves in 2010, through public participation, introducing the idea of empowerment to communities to draw their own future, was revolutionary on that scale. I am excited when I read about projects carried out by Elemental, Aravena's own studio formed in an effort to engage with sustainable affordable social housing. His project to rebuild Constitucion, through democratic public participation, introducing the idea of empowerment of communities to 'draw' their own future, was revolutionary on that scale. In that sense I do hope that our curators meet the challenge that he has put to all of us, to look deeply at our 'common sense' and seek to drive towards a future that engages holistically and across all frontiers, national, cultural, social, political, to find a 'Common Ground".
All of this at the Venice Biennale is a rich seam of information and resource for architects and engineers, but also for politicians, civil servants and industrialists and investors. It is an opportunity to have a dialogue across a global arena, which can bring all of us together under the one idea of 'common sense'. This year's Biennale has a grander agenda than ever before: How to act sustainably at a local level and how to more effectively improve the lives of humanity on a global scale, by acting locally, especially for the under privileged and the poorer societies.
Thus the 'Text Book' of Venice is once again to be enriched with pages that will reveal actions from the edges and frontiers of architecture from the four corners of the earth, and in all honesty, I can not wait to get there to continue my reading of this live action book." -Selçuk Avcı