Venice Biennale 2014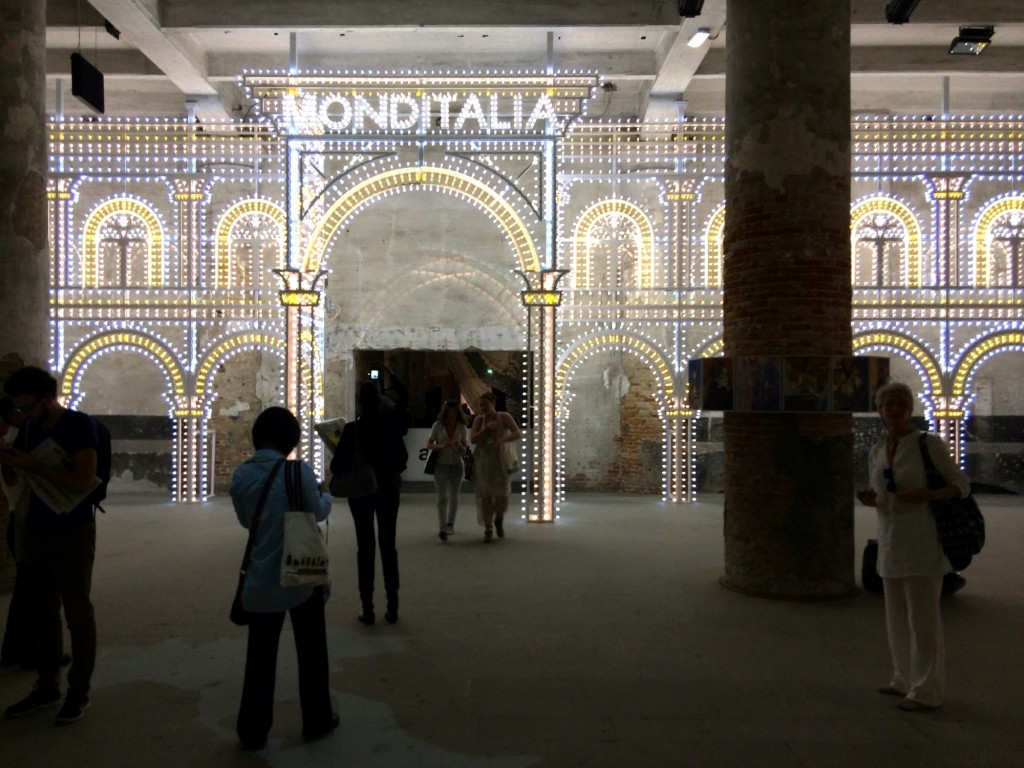 This Biennale was not to be an ordinary Biennale for me. Even though it is a ritual that we perform without fail every other year, and enjoy come what may, this one was going to be special because it was the opening of the first "permanent" pavilion of Turkey beginning in 2014 and curated by no one other than our own Murat Tabanlıoğlu. The party in his honour the night before the first preview opening, was like going down to Maçakızı, Bodrum for the night. Every one who is any one in the architecture glitterati was there at the Palazzo Cini courtyard and more (http://www.cini.it/en/foundation). Belly dancing by known impresorias preceded by plentiful food and wine, was all that one could ask of a Turkish style anointment. What made it more enjoyable was the added intrigue of the Glass Tea House Mondrian Pavilion by Hiroshi Sugimoto, a brilliantly created stage set in the back garden of a house on the island of San Giorgio Maggiore which we had a chance to visit while waiting for Cini to open its doors.
But
we were really there for the Biennale proper and we enjoy that bi-annual anticipation of the first entry through the Arsenale, with the inevitable procession through the great long rope fabricating buildings with those incredibly well preserved interiors, still 'living' in some way for this worthy cause.
VENICE BIENALE-The Monditalia pavillion from AVCI ARCHITECTS on Vimeo.
Monditalia was a piece de resistance, with the very well conceived curtain of the Mappa Mundi of the Romans, separating the world of Italy we all know through numerous movies, all playing in a layered but linear sequence along one line, while engaging and enticing us with aspects of Italian culture. I quote:
"The second main exhibition in this year's Rem Koolhaas-directed Venice Architecture Biennale is a "scan" of Italian cultural, political, and economic life in a sprawling series of work. The show, titled Monditalia, fills the Corderie in Venice's Arsenale—a long, brick-columned space once used to make rope for the Venetian navy. It includes views of Italian architecture, but it also includes art, film, dance performances, and other programming presented in conjunction with the organizers of Venice's other biennial exhibitions. The goal, according to Koolhaas, is to present a portrait of Italy as a "fundamental" country, a characterization he explains as a place with a singular history but one that also faces challenges found in many other parts of the world."
The exhibition that most affected us I think was the primary focus of the biennale curated by Rem Koolhaas at the Giardini, the Elements of Architecture which opened our eyes in which we had least expected. Koolhaas has always claimed that territory that challenges all of our comforts, and so when expecting elements of beautiful accomplished modern architecture we are presented with an entirely open ended proposition, which leaves one wondering what exactly is next.
But the exhibition that left the most lasting impression as far as exhibitions of architecture go is the Italia pavilion which is again an extremely well conceived and accomplished collection of contemporary works of architecture which leaves you in no doubt about the potential of Italy as being still the country which will one way or another come back again and again to lead the world in beautiful form making of a kind that others will find difficult to match.
by Selçuk Avcı