Located in the capital city of Ankara, the Turkish Contractor's Association HQ (TCA) is designed on sustainable principles from the ground up, and intends to send a clear, future-oriented message from the Turkish building industry to the world at large. From Turkey's first modern underground labyrinth for passive air conditioning, to the meticulously designed shading on the facade, the building speaks volumes about the possibility of feasible, effective, and collaboratively-designed sustainable systems. It is an architectural image that stands on the global stage.
CLIENT
Turkish Contractor's Association
The project was the result of a limited design competition, with a brief that placed a great emphasis on leading environmental design approaches. From the outset the project team was a multidisciplinary group, both international and local, which included Atelier Ten from London as environmental engineers. The completed building received LEED Platinum Certificate and is already regarded as a showcase of leading edge environmental design, which has raised the bar for designers and clients alike, not only in Ankara but the whole of Turkey.

1. Hot air in external environment goes from stacks into the labyrinth.
2. Hot air cools down naturally as it covers distance inside the labyrinth.
3. Air losing its heat reaches air conditioning stations according to conditions, if necessary it is further cooled down.
4. Air going through canals embedded in R/C slabs also cooling concrete mass reaches cold beams.
5. Cold beam depending on the need in the environment further cools down the air, releasing it into the interior.
6. Air heated up due to the impact of machines and people is collected in ventilation ducts and carried to heat recovery units.
7. The atrium at the core of the building with stack effect collects all heated air at the highest level, carrying it to heat recovery stations, again through ducts.
8. Thanks to the mesh and shade elements forming the exterior of the building, heat recovery is minimized.
9. There are also hot air pipes and photo-voltaic panels on the roof.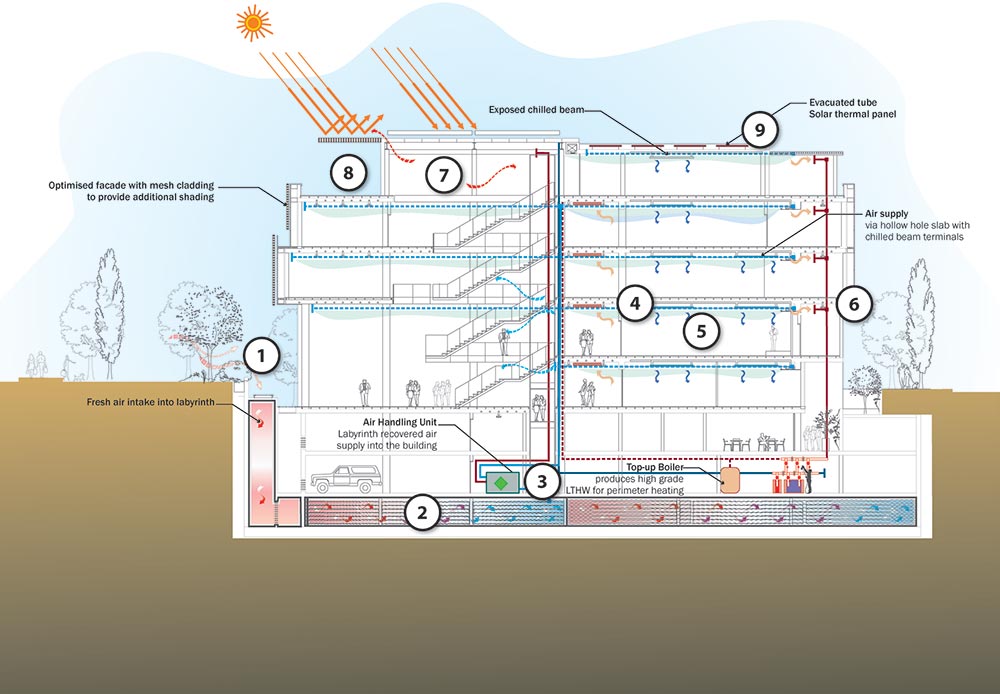 Architect
AVCI ARCHITECTS
Competition Project Design Team
Selçuk Avcı, Burak Ünder, Büşra Al, Markus Lehto
Architectural Practice Project Design Team
Selçuk Avcı, Burak Ünder, Tayfun Aksoy, Büşra Al, Begüm Tırpancı, Ufuk Berberoğlu, Cem Fırat Bayır, Berkin Lale, Berkan Çelik, Atılım Yılmaz
Architectural Project Controller Team
Selçuk Avcı, Burak Ünder, Deniz Nar, Begüm Tırpancı, Buşra Al, Tuğba Öztürk, Hürsel Sarıdağ
Interiors
AVCI ARCHITECTS
Project Management and Construction Controller
IMS Mühendislik Danışmanlık
Sustainability Consultant
Atelier Ten
Landscape Architect
Arzu Nuhoğlu Peyzaj Tasarım
Contractor Company
Mesa Mesken Sanayii
Structural Engineer
Ural Mühendislik
Mechanical Engineer
Okutan Mühendislik
Electrical Engineer
Yurdakul Elektrik
Retaining Structure Engineer
İksa Mühendislik
Infrastructure Engineer
Kadim Mühendislik
Fire Protection Engineer
Karina Tasarım
Acoustic Engineer
Mezzo Tasarım
LEED Consultant
TURKECO İnşaat ve Enerji Ltd. Şti.
Signage Design
Murat Dorkip
Furniture
Nurus
Photographer
Yunus Özkazanç