Workplace Productivity
The Strategic Transformations in Human Oriented Office Design and Workplace Productivity
In accordance with their design investigations on long-term sustainability of spaces, technological advancements, the alteration of human profile in corporate structures, energy efficiency and human/space performance, Avcı Architects reconsiders the concept of sustainable space as a new and strategic vision in relation to high performance working spaces. While emphasizing the fact sustainability is an inherent outcome of a holistic approach of design principles ranging from larger to smaller scale, Selçuk Avcı asserts that human oriented designs are best analyzed within collective working spaces.
Selçuk Avcı argues that changing/developing technologies, climate alterations, transformation of profiles, re-definition of modes of working, human-oriented designs, corporate changes/transformations and trademarking specify new physical conditions in relation to human and space, and a convenient workplace should be considered with respect to the analysis of human/space performance. Avcı further adds that a long-term sustainability approach has a leading role in improving the quality of life through proper analysis of the definition of the new life cycle fitting with the building, low-energy, trademark advantage, human performance, air-conditioning, integration of new technologies and management costs.
The shrinkage of companies after economic crisis in 2008 played an important role in improving their physical and technical infrastructures, production of flexible workplaces and analysis of cognitive and physical aspects of human-oriented office designs. In this regard, spatial design principles are re-questioned through consideration of space in relation to "efficiency-productivity" dichotomy within conceptual and functional frameworks, satisfaction of material and nonmaterial requirements of man and improvement of life quality.
Workplace Productivity
On that account, Avcı Architects carry sustainability principles implemented into their designs one step further through collaborating with Gensler, which has a reputation of designing commercial buildings at global scale. The strategic partnership between Avcı Architects and Gensler brings into focus new office spaces in accordance with spatial analysis and data concentrating on technological implementation in new workplace productivity in the 21st century, flexibility of space, maximum use of natural materials, integration of climatic conditions, low energy and management costs, high working performance and improvement of working and living standards.
The investigations about workplace productivity conducted by Gensler in 2008 proved that productivity in offices increases by means of "four modes" principle, focusing, collaboration, learning and socializing, which result in employees' being creative and innovative within their daily activities. According to Gensler's comparison of distinct groups and activities, works that require high concentration, collective mode of production that generates common bonds and values, interactive working, the experimentation of novel modes of learning in new spaces and spatial activities that are a part of daily production like socializing significantly affect working performance in contemporary workplace designs. Considering these data, Selçuk Avcı supports the fact that it is also necessary to develop alternative approaches and transformations with respect to corporate identity and trademark of the 21st century workplaces. In accordance with Gensler's investigation, Selçuk Avcı continues to argue that: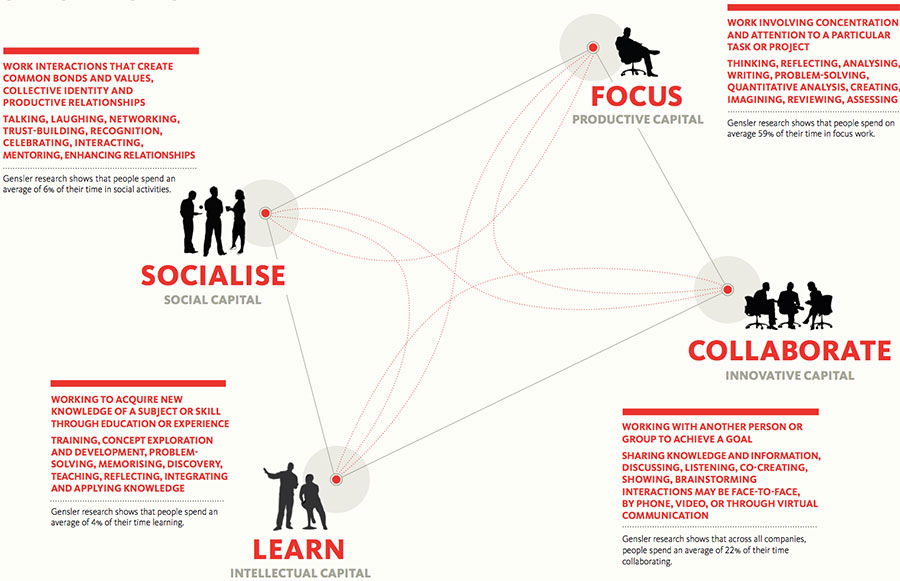 "four modes" principle. image © Avcı Architects
"People spend %6 of their time on social activities, %59 on works that require high concentration, %4 on learning tasks and %22 on collaboration with others. According to this information, production of effective workplace with respect to distinct spatial functions and flexibility of space should not only be evaluated in relation to expansion of productive power and efficiency, but also in relation to improvement of life quality, corporate identity and global growth. If we consider that we spend 2/3 of a day in workspaces, those areas and their physical conditions have to be high quality and display high performance''
The investigations conducted by Avcı Architects on new workplaces and human-oriented designs are not considered as the reification of the end products in relation to space as an architectural building/product, language or formula that generate finalized data. Instead, these studies are defined as the production of an architectural language that conveys the concept of sustainability, the fundamental attitude of Avcı Architects, even to the inner codes of design like human and space transformation/alteration, climatic changes, economic expansion, democratic modes of approach, adaptation, technological developments, new materials and so forth.  Every new spatial design redefines the problem with respect to its own contextual framework and re-describes the concept of flexibility in reference to changing parameters. Considering this argument, it is aimed couple issues like flexibility, the use of appropriate material and new technologies concerning new workplace productivity with new modes of work emerging from corporate structures and future scenarios in relation to new organizations.

FOX International Headquarter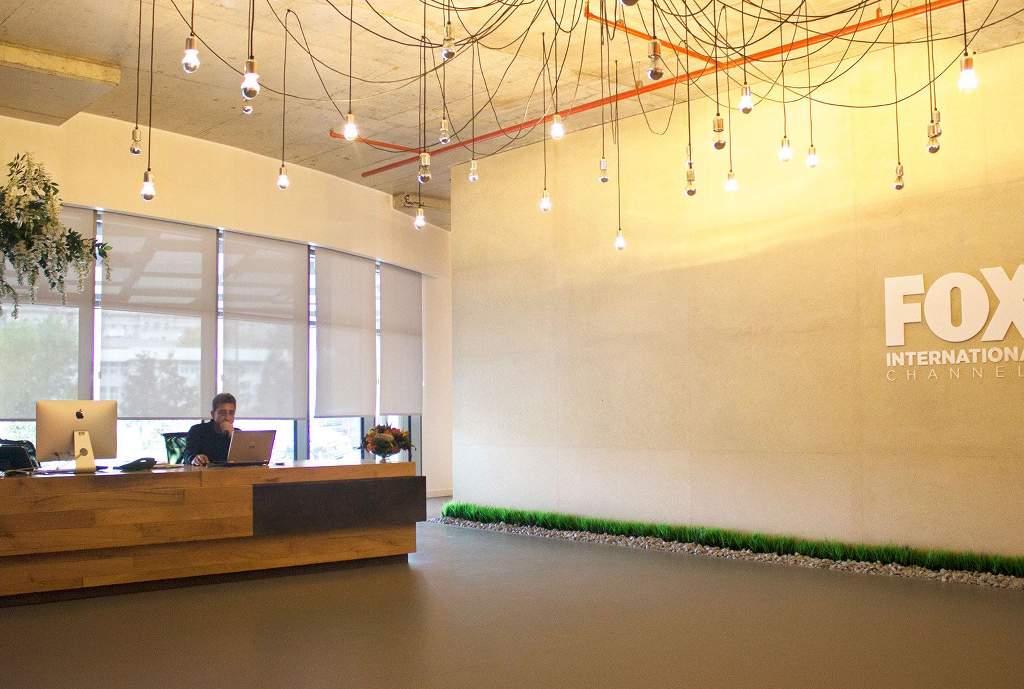 Fox International Channels Istanbul Headquarter. image © Avcı Architects
Fox International Channels Headquarter in Istanbul is one of the exemplary works of Avcı Architects, which is designed in 2014 having 1450 square meters construction area and transparent workplaces that allow maximum visibility in circulation areas.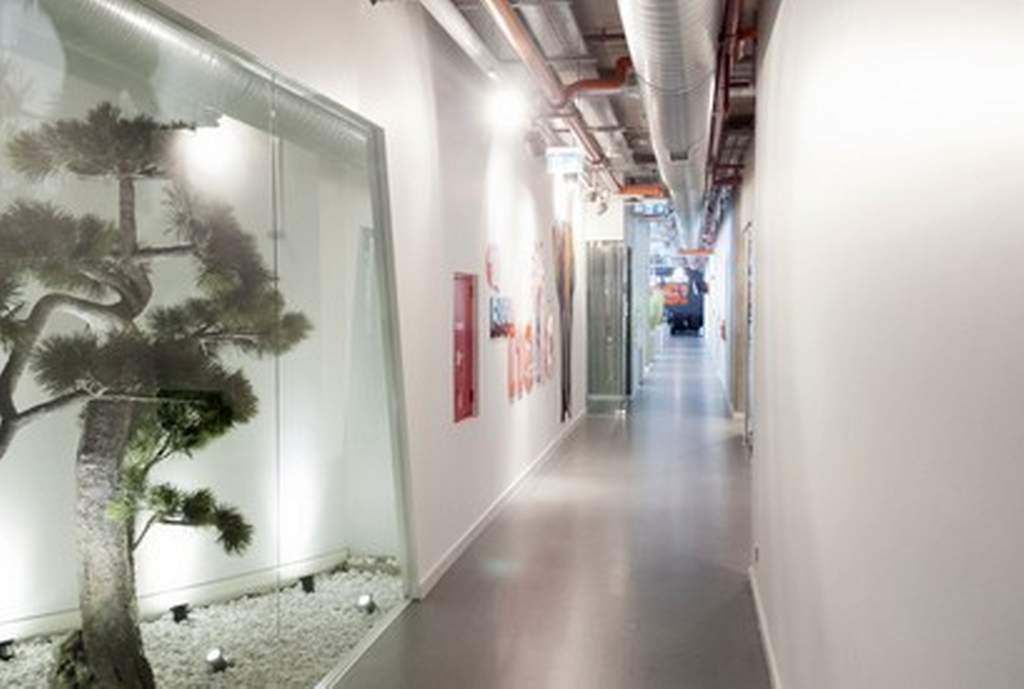 Circulation Corridor-FOX International Channels Headquarter Istanbul, image © Avcı Architects
While working zones of the office building benefit from sunlight at maximum, the color and graphic design implemented on the walls play a significant role in maintaining dynamism and liveliness of space.  Through the selection of material mainly dominated by brutal concrete, the use of natural material is targeted.
AIG Istanbul Headquarter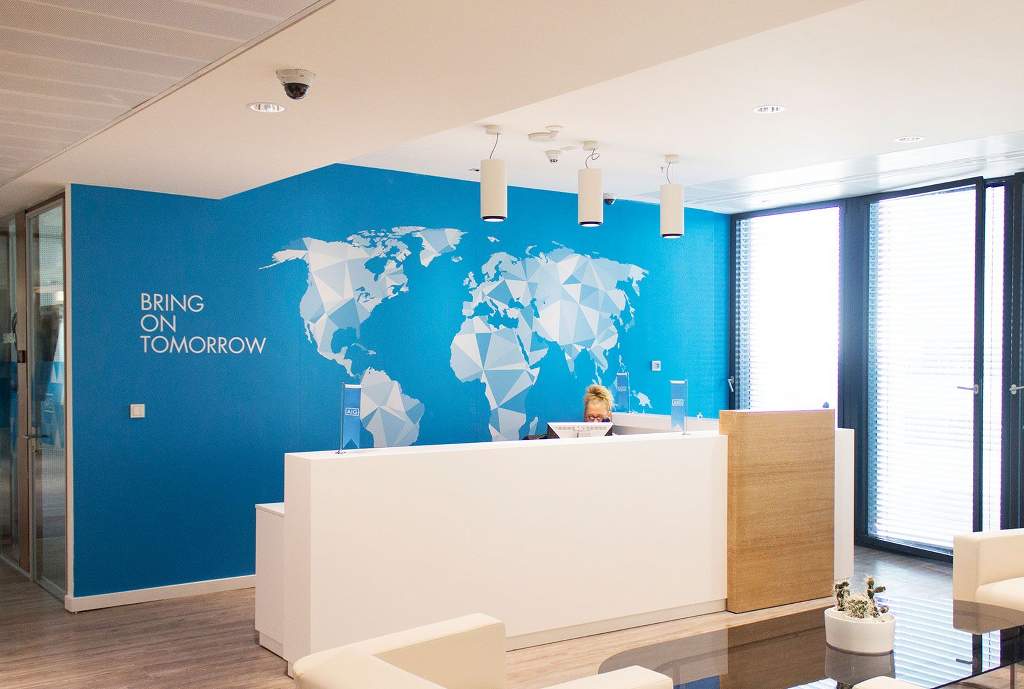 AIG Istanbul Headquarter, image © Avcı Architects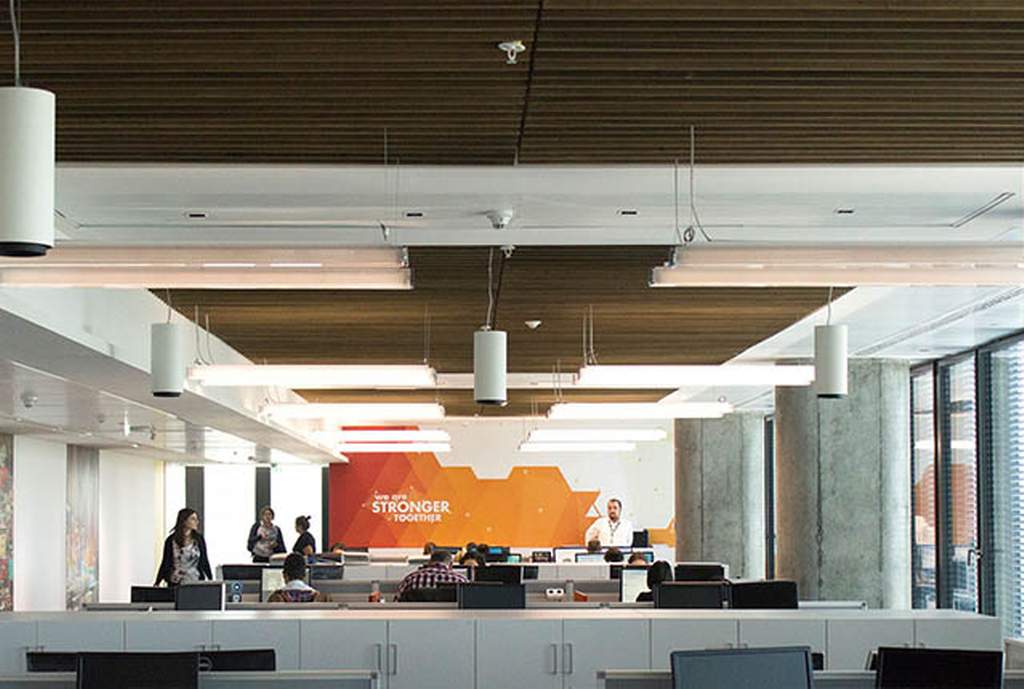 Workplace-AIG Istanbul Headquarter, image © Avcı Architects
As one of the recent office designs of Avcı Architects, headquarter of the insurance company AIG Istanbul Headquarter has 4000 square meters construction area with an open plan scheme. The plan organization and requirement analysis of users are arranged in a way that employees can benefit from sunlight at maximum level.  High volumetric areas in the office and the use of timber and metal within these spaces, existence of brutal concrete columns and graphics applied on walls differentiate the space functionally as well as enriching it visually.
INC Research Istanbul Headquarter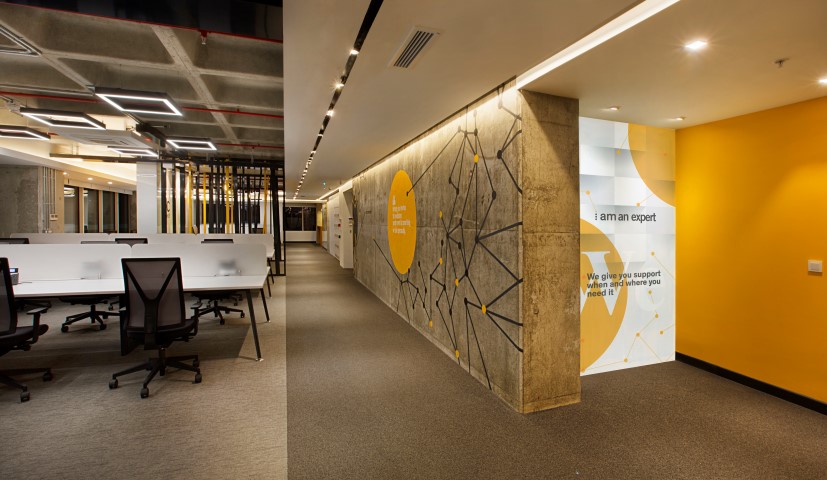 Workplace-INC Research Istanbul Headquarter, image © Avcı Architects
Avcı Architects, who successfully implement principles of sustainability into their office design projects, aim to maximize energy efficiency, production/life quality and performance of workplaces in 450 square meters headquarter of INC Research, an international medical company, by using an open plan office scheme, which is an outcome of a series of analysis comprising corporate identity, natural material, air-conditioning and new means of workplaces.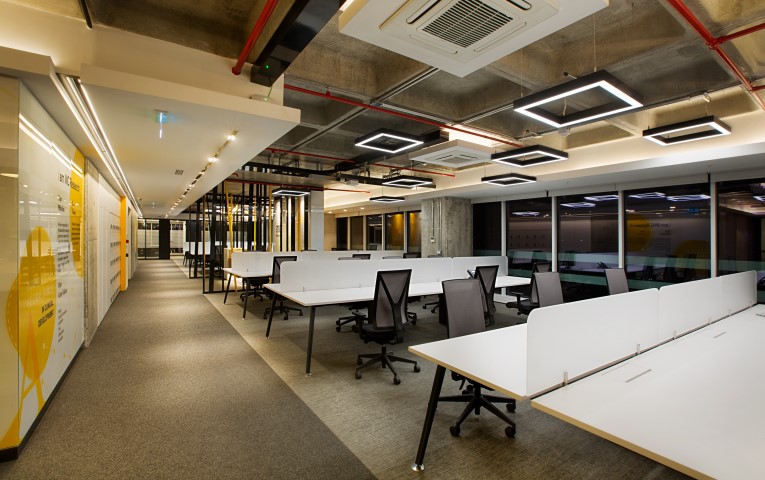 Workplace Productivity-INC Research Istanbul Headquarter, image © Avcı Architects
While developing sustainable design ideas by making "process" and "function" analysis that comprise corporate identity, requirements of employees, function schemes, circulation schemes, air-conditioning, requirements of space in relation to changes in daily activities, use of natural material on appropriate surfaces, Avcı Architects draws attention to the importance of employing natural materials in workplaces, which is, in fact, believed to be at the core of the concept of sustainability.
Considering physical and psychological conditions of employees in new workplaces, the issues like air-conditioning, use of appropriate materials and new technologies gain much more significance. In this regard, designing high volumetric spaces, interactive workplaces that are shaped in reference to employees' functional requirements encourage employees to spend more time in office spaces comfortably. Within these arguments, among many investigations and statistics on production-efficiency-effective learning in workplaces, the one entitled as "Health, Comfort and Efficiency in Offices" by JLL (Jones Lang LeSalle) puts forward significant data in terms of sustainability criteria concerning employer and employees.
According to the investigation of JLL (Jones Lang LaSalle), the 6 criteria of sustainable space design that can increase the efficiency of employees and decrease the costs are listed as keeping the air purified in the office, thermal comfort, sunlight, spatial freedom and green areas inside the building. JLL (Jones Lang LaSalle) used the Turkish Contractor's Association HQ project of Avcı Architects in this investigation as a case study.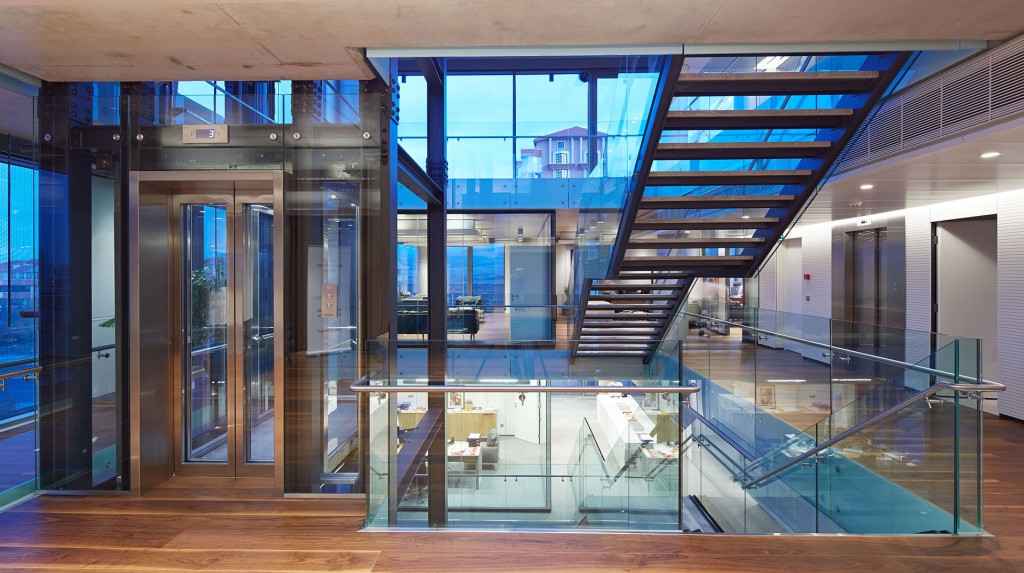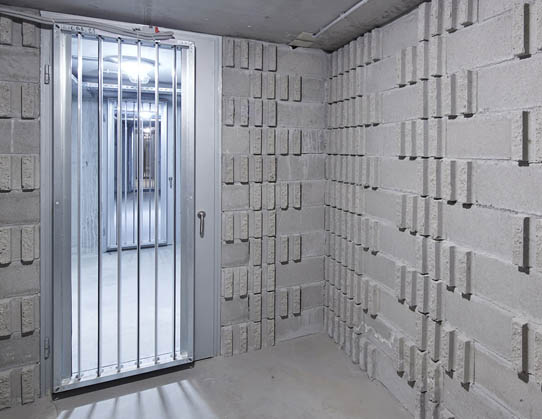 Turkish Contractor's Association HQ. image © Avcı Architects
The Turkish Contractor's Association HQ in Ankara uses thermal labyrinth system, particularly designed for this building, for the first time in Turkey in order to achieve nearly %50 energy saving that solves the problem of severe temperature difference between day and night time. The investigation by JLL (Jones Lang LaSalle) employed the new technological labyrinth system of The Turkish Contractor's Association HQ as an exemplar alternative air-conditioning case for the thermal comfort criterion of the study.